An Interactive Way to Fill in the Gaps and Raise Your Padel Skill Level
One-day workshops are powerful tools to immediately see an improvement in your padel skill level, whether you are a coach, player, or somewhere in between.
In this article, we'll share:
Workshop details for the curious.
Who is eligible to attend (good news: anyone interested in improving their padel game is welcome!)
Why we hope you'll consider attending one of our in-person events or will join a similar experience near you.
Picture it in your mind's eye, a full glorious day of padel…
You hear the cacophony of padel rackets smashing around balls. At the Chelsea Harbour Clubs in London, England where our workshops currently take place, you'll spend several hours holding a racket in full dedication to raising your padel level, and there's no place you'd rather be.
You begin with an overview of the specific sought-after technique from some of the best coaches in the game. From there, you disperse in unbridled anticipation because you can't wait to try things out for yourself.
You and your enigmatic group practice this technique with various drills and instruction from the Padel School team for three sessions each lasting 15-20 minutes. At the end of the rotations you stop, sweaty with your head spinning, grab some water to quench your thirst, and quickly jump right into the next technique.
Throughout the day, you take several breaks that last just long enough to get you back on your feet. After you go home, you'll check your email for a professionally crafted video summary to continue your learning.
Sounds like a dream come true right? We think so.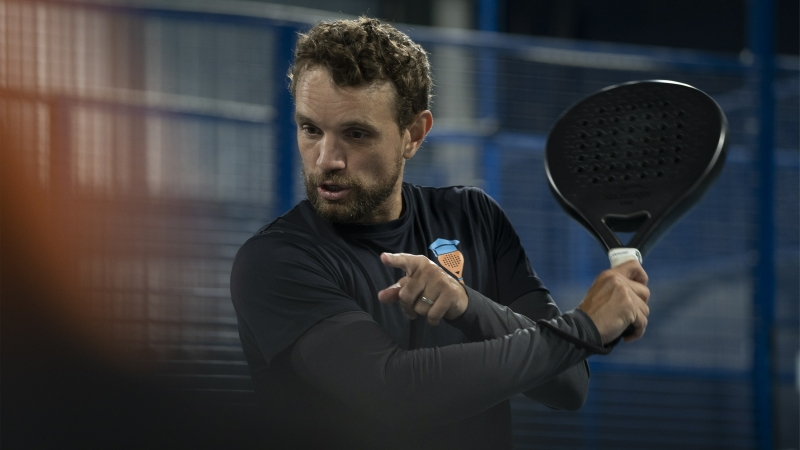 Current coaches who want to learn drills to share with students and to raise their own padel skill level benefit from our workshops. As a coach, you don't need to be a World Padel Tour elite level player to teach students, but everyone can benefit from the fundamental overview our workshops provide.
We also welcome padel players at any level to come and improve their skills even if they don't aspire to be coaches. We've found that workshops with a mix of people are the most fun and engaging events to attend.
At each workshop, we focus on specific areas of growth within the padel game. For example, we have workshops for padel tactics, how to defend the corners of the padel court, and an in-depth overview of all the technical shots in padel from the front and back of the court.
Each event is slightly different because we tackle specific aspects of padel. Attendees can expect to come away with several takeaways to improve their own game, but also with easy-to-remember drills to use as soon as they get back on the court. And for those who prefer a shorter burst of time, not all workshops are six hours. Some will be three hours and others as short as 90 minutes.

We recognize you might not be able to attend our in-person padel workshops here in the UK due to a variety of reasons. However, since you might join a club event nearby or organize your very own workshop, we hope this information has been helpful.
Go here to see the full list of events of varying length.
Please feel free to contact us with questions and we genuinely hope to see you around soon!